2013 Leadership Program of the Rockies Annual Retreat
The Leadership Program of the Rockies Annual Retreat, which I'll be attending for the 8th year in a row in late February at the Broadmoor Hotel in Colorado Springs, is always one of the highlights of my year. Full of lovers of liberty, and packed full of some of the most interesting speakers you'll ever hear (if you're interested in politics, and especially if you have a conservative/libertarian pro-free market viewpoint), this year's event promises to be another great one. And the hotel is so fantastic, that even non-political spouses love the event.
The keynote speaker for the Friday night dinner will be Fox News reporter and libertarian champion John Stossel. Other great speakers (see regularly-updated list here) will include Bill Whittle, Mia Love, Yaron Brook, and -- the person I'm most looking forward to hearing -- DC Circuit Court of Appeals Judge Janice Rogers Brown, whom I've written about several times as one of the best (most principled) judges in America. If the Saturday lunch speaker is who I think it is, that will be fantastic, too, but I don't have official confirmation yet, so I won't say who I think it is.
Click here or on the picture below to open the printable PDF file with information about Retreat attendance, or learn more and register online here. The sooner you book, the better your chances of getting one of the block of discounted rooms.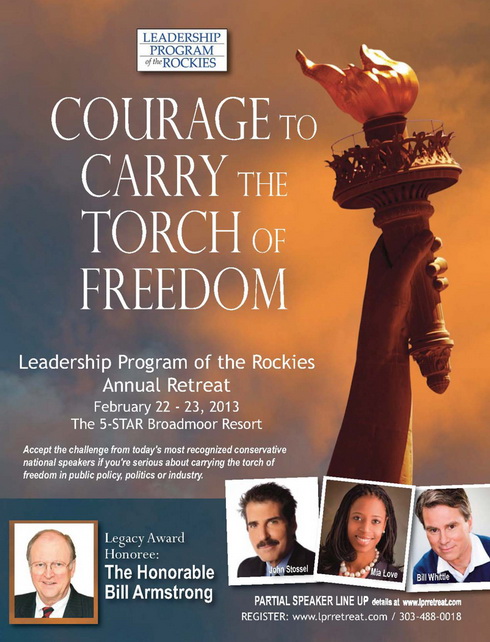 The 2011 retreat, one of the best so far, featured Charles Krauthammer as the dinner's keynote speaker, along with a raft of other great people addressing the crowd on politics, economics, and foreign policy.
You can see highlights of the 2011 Retreat here:
http://www.youtube.com/watch?v=–HCSs8-KXw
This year's Retreat will be held on Friday and Saturday, February 22nd and 23rd, at the Broadmoor Hotel in Colorado Springs, and LPR has an incredible discounted room rate available for Retreat attendees. Just ask for the Leadership Program rate when you call hotel reservations at (866) 837-9520.
It's likely that this year's event will be sold out, so please book soon.
As always, there will be a VIP reception – at which you'll be able to say hello to John Stossel and other speakers and have your photo taken with Stossel – available to those who purchase a package which includes it. The number of attendees permitted at the VIP reception is limited in order to maintain a true "VIP" feeling about that part of the event.
Again, information about Retreat packages can be found HERE. And if you want a paper/pdf version, to fax or mail, or an easy way to see all the package choices, click HERE.
I hope to see you at this great event. You'll be telling your friends for months afterwards how much fun you had, how much you learned, and how many interesting people you met. So again, please visit the LPR Retreat web page to get more information and register!