Alexco Resource Keno Hill visit - photo journal
For purposes of full disclosure: I have what is, for me, a substantial investment in the company mentioned below. This article is not intended to encourage anybody to buy stock; it's just a piece which I hope some of you will find interesting. Also, these pictures are my property and are not to be reposted by anyone else on other sites without my permission.

Last week (on May 26th, 2011, to be precise) I had the opportunity to visit Alexco Resource's mine and mill operations in the Keno Hill district of the Yukon.
It's hard to describe just how remote the site is, but this should help: 

View Map
As you might expect, it's not the easiest place to get to. My friend and co-investor Neil and I traveled to Vancouver. From there we flew with other Alexco investors, employees, and other interested parties up to Whitehorse and from there got on two smaller planes for the trip up to Mayo, the site of the nearest airport. From Mayo, it was about a 45 minute drive to Keno Hill.
Flying over the Great White North:
(This is a bit deceiving in that Keno Hill was around 70 and sunny when we got there, the best weather of any place visited during the trip.)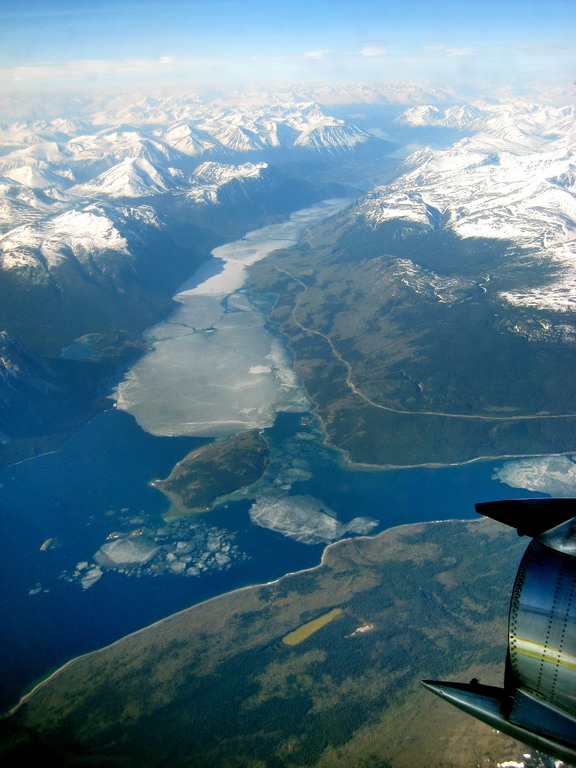 The newly commissioned mill with a truck ready to transport two large containers full of "concentrate" which would either be a lead/silver mix or else zinc. (Fortunately, for purposes of silver recovery, most of the district's silver "reports to" the lead rather than to the zinc.)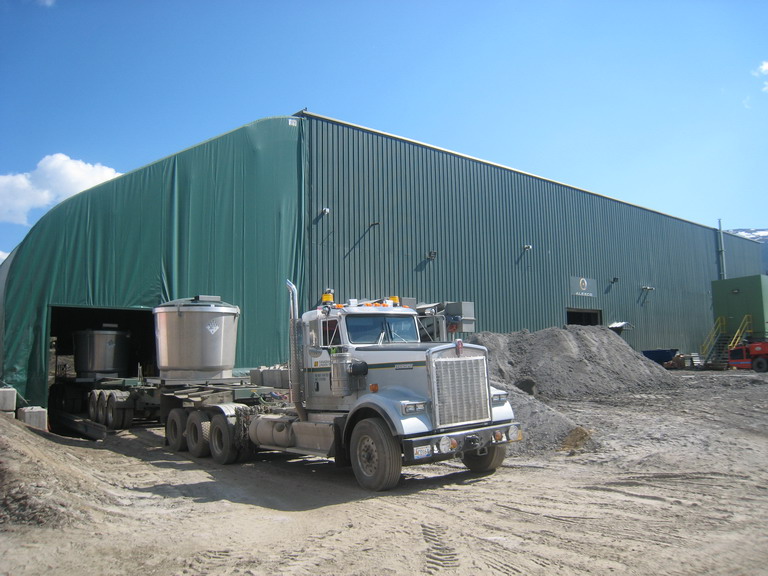 The sign commemorating today's event: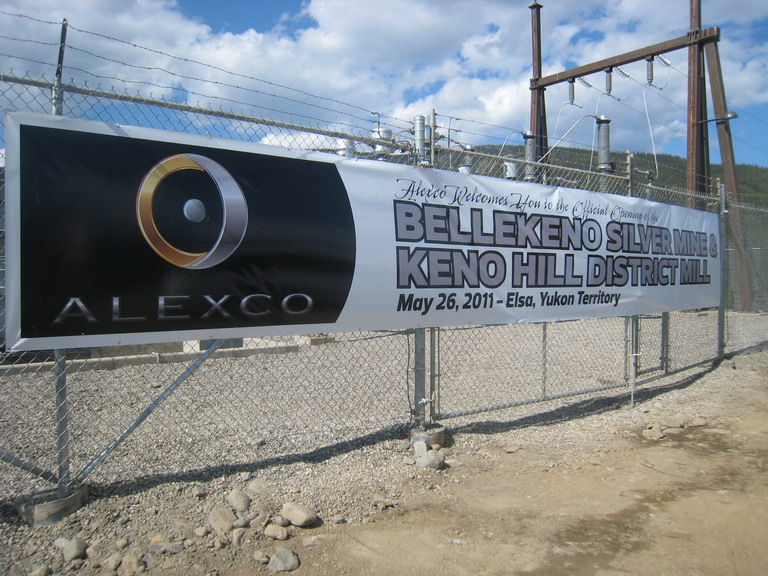 Left, Yukon Premiere Dennis Fenty. Center, Chief Simon Mervyn of the First Nation of Na-cho Nyak Dun. Right, Clynt Nauman, President & CEO of Alexco Resource. All three quite interesting gentlemen.  Dennis Fenty will be retiring from politics. He told me he plans to "ride (his) Harley and blow (his) mind for a while" once out of office.  We need more politicians who have their priorities straight, as Dennis does.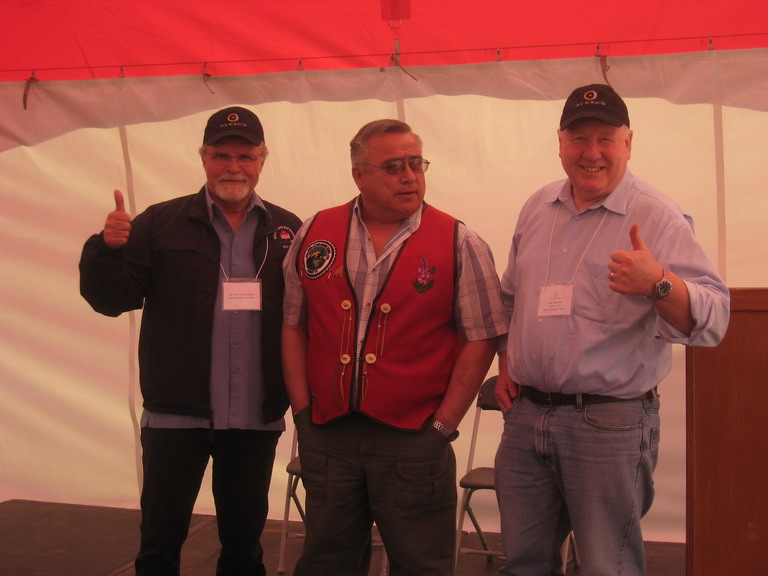 Inside the mill: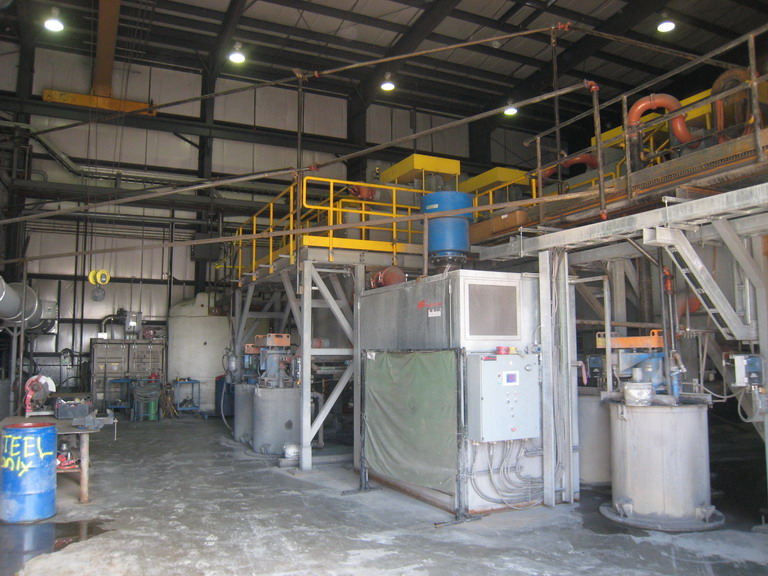 Looking down on the ball mill. I'm guessing it's about 15 feet long, 6 feet wide, and quite loud: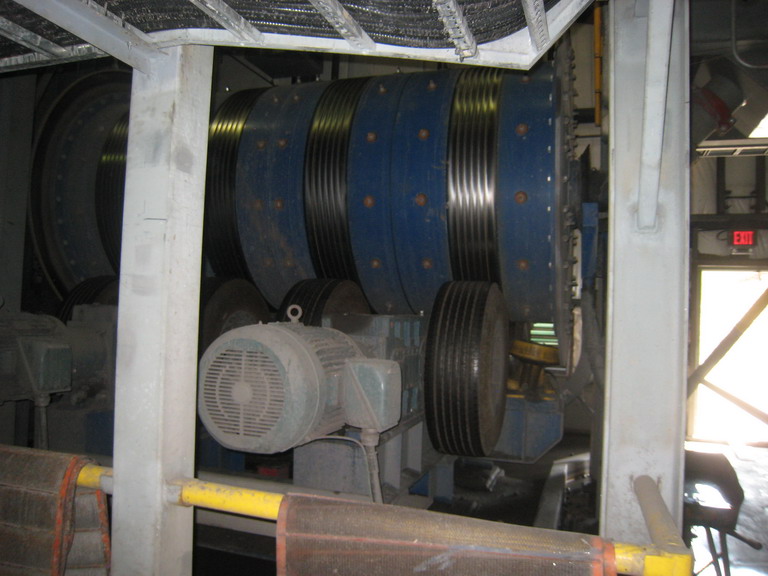 Ore being washed from the feeder (right after the ball mill) into the processing circuit: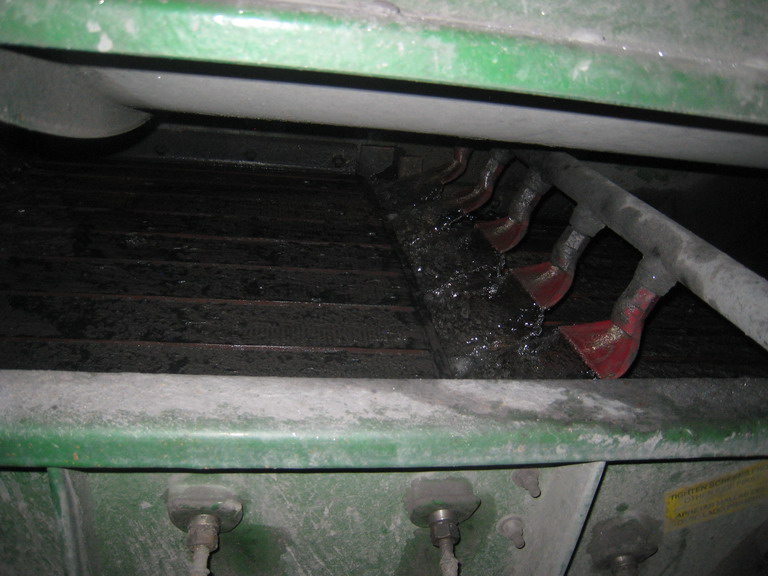 The mill: Flotation circuit in foreground, drying and shipping areas in the background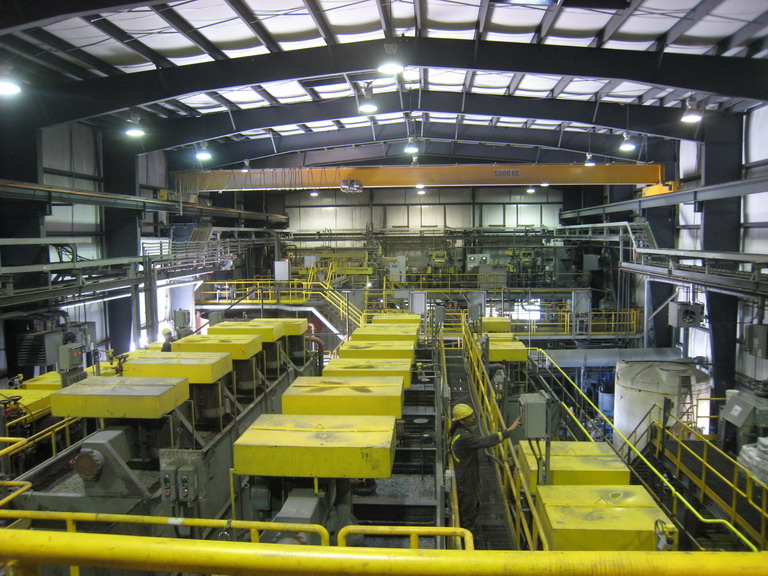 Alexco worker walks through mill: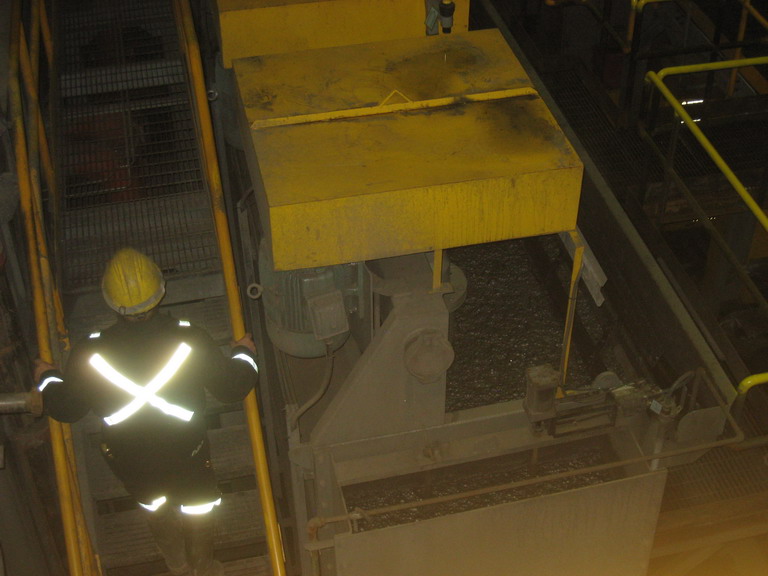 Your humble reporter/investor: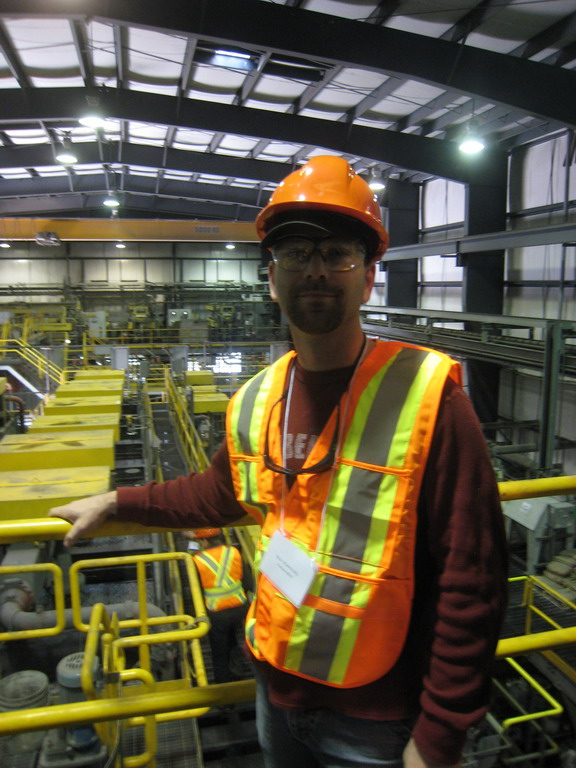 A bubbling stew of lead, silver, air, water, and reagents (which cause the metal to float to the top prior to skimming):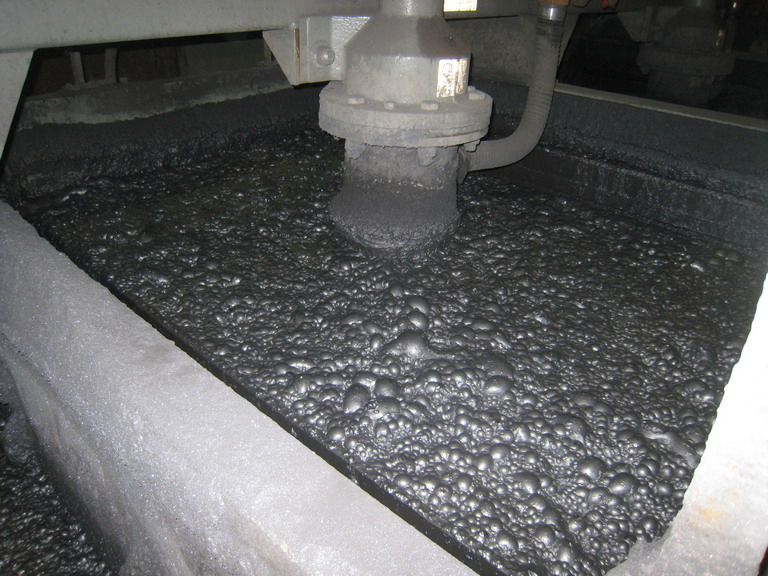 Up close in a skimming cell: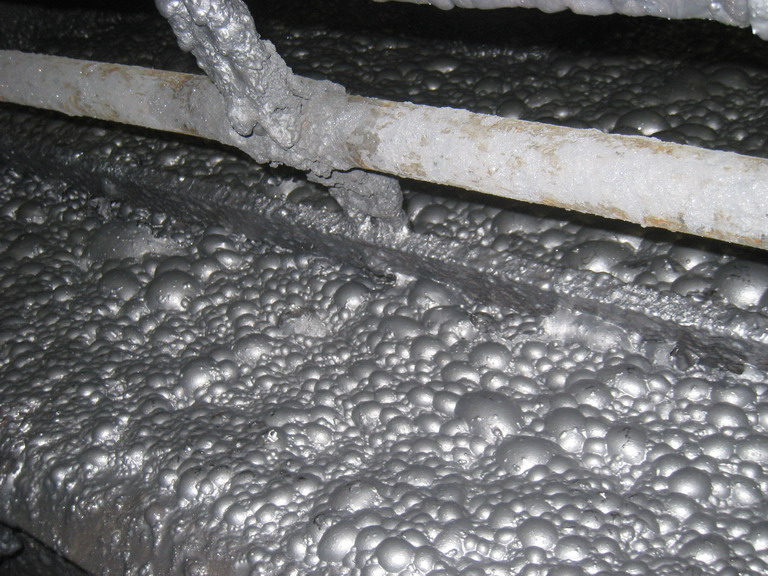 Here's a video of a few short clips of the mill in operation:
http://www.youtube.com/watch?v=prQlg-soKiQ
In addition to the mill, a few of us had the chance to go into the Bellekeno mine, currently the only operating primary silver mine in Canada and the source of the ore going through the mill. (Alexco is likely to open at least one more mine in the next year or so.)
I'm not sure how far we drove, but it was probably about 1/4 mile.  Fortunately, at least at this time, the geology of the ore formations don't require very deep mining.
The entrance tunnel into Bellekeno: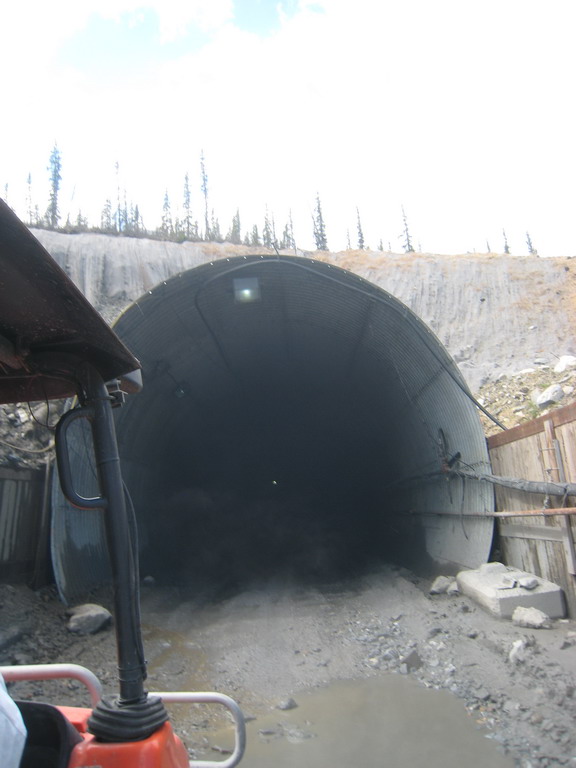 A miner at work in the 40-degree (Farenheit) tunnel. The temperature in the mine changes very little throughout the year.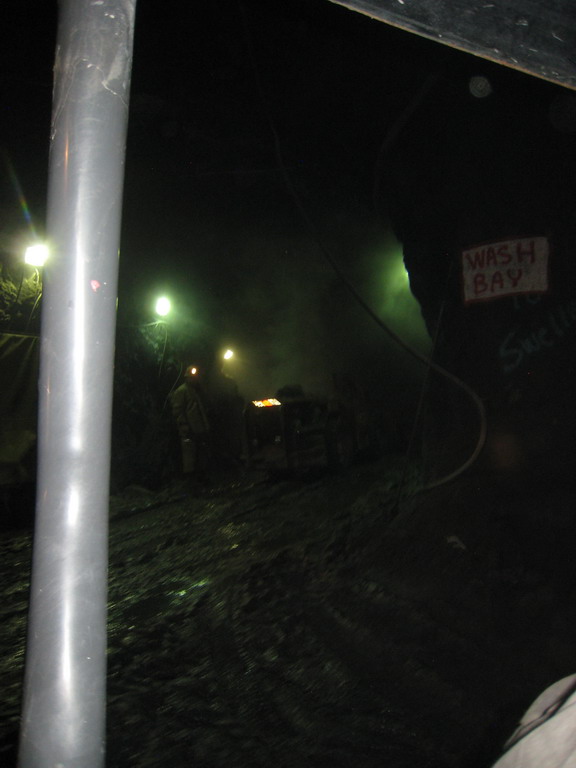 A remarkable galena (lead sulfide) vein containing a high concentration of silver. Note: the wall is about 10 feet high, curving back toward the viewer where you can see the reinforcing metal and bars attached to the ceiling for "ground control" purposes.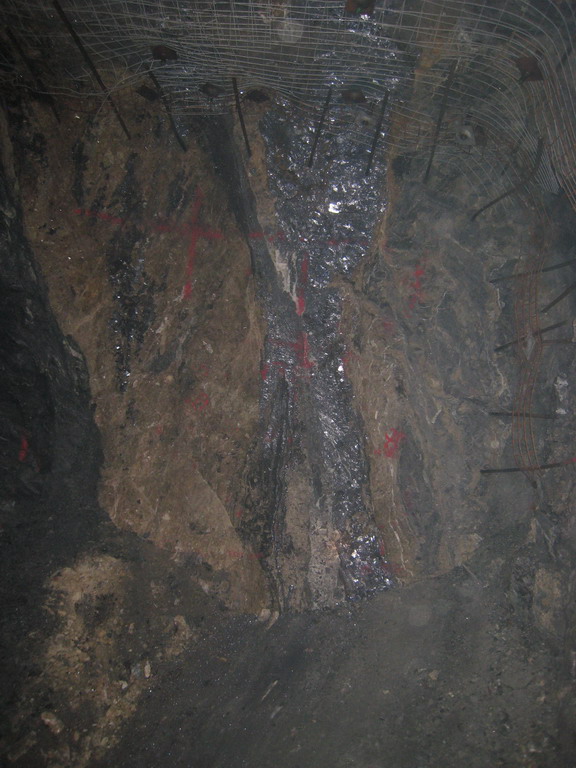 Visitors looking at the ore body above, listening to mine manager Scott explain aspects of geology and mining: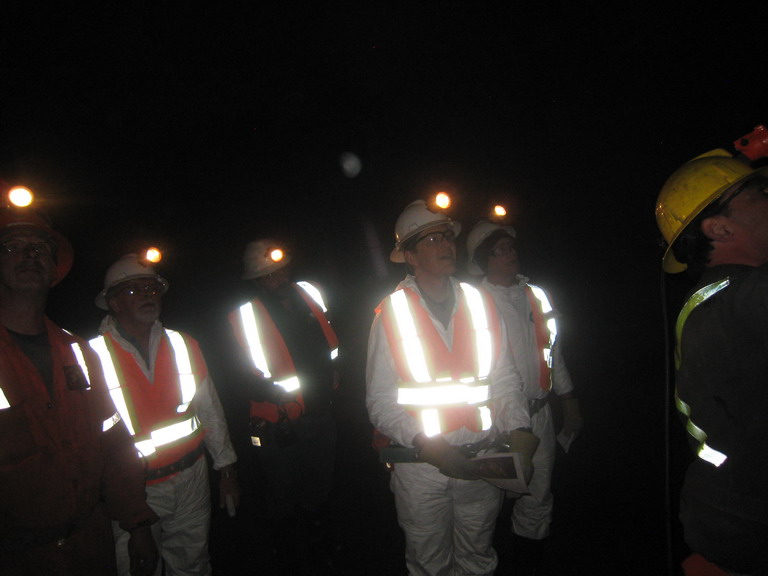 Alexco miner and safety expert John knocking a bit of ore out of the vein to show us visitors:
A small piece of galena. Even though you know it's a lead compound, it's still remarkably heavy once in your hand.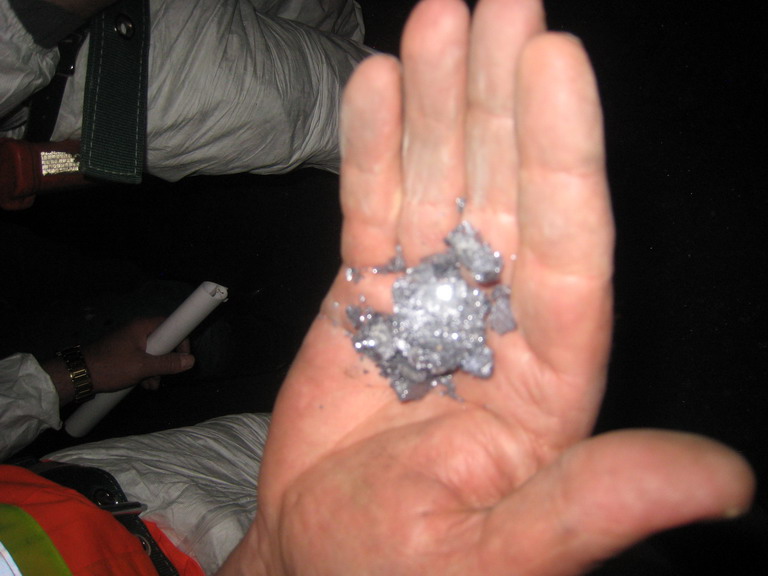 A close-up of the galena vein: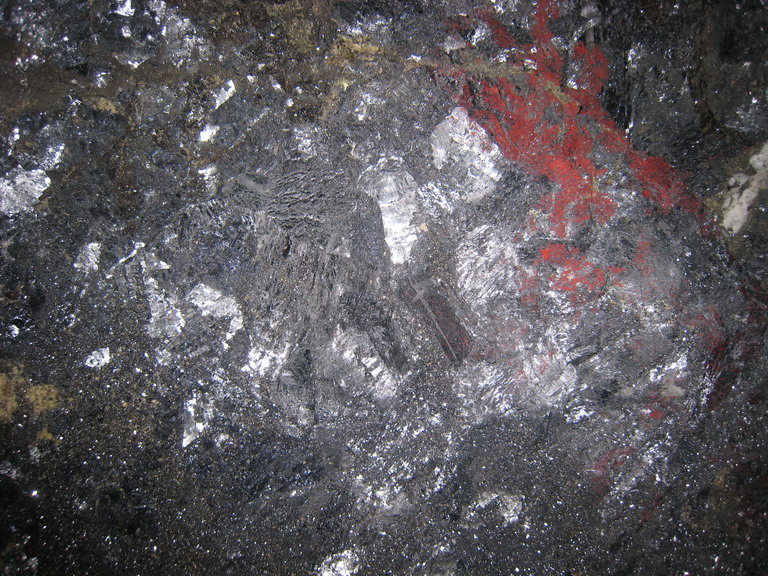 Me and Neil in the Bellekeno mine: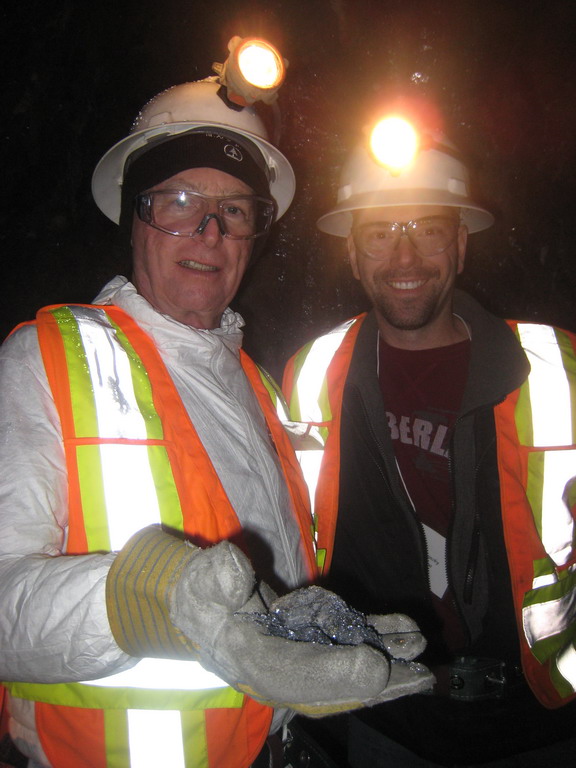 Geologist's markings around the ore body: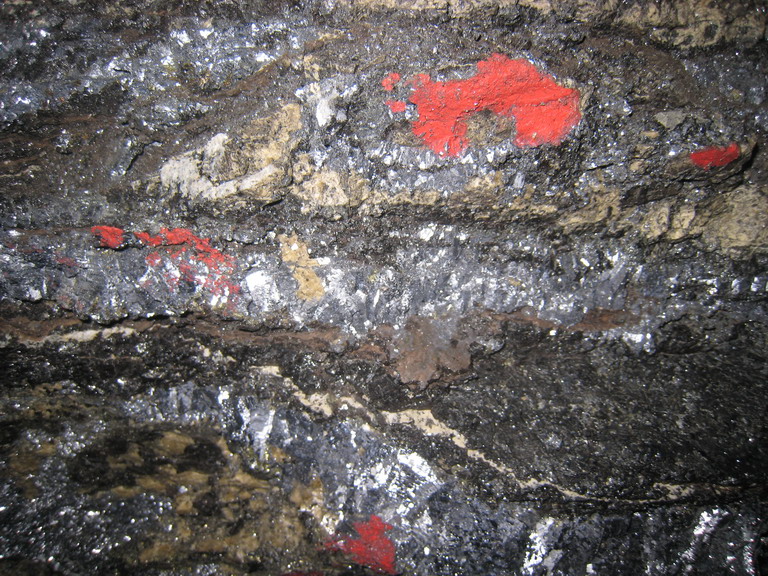 Ross in front of soon-to-be cash flow: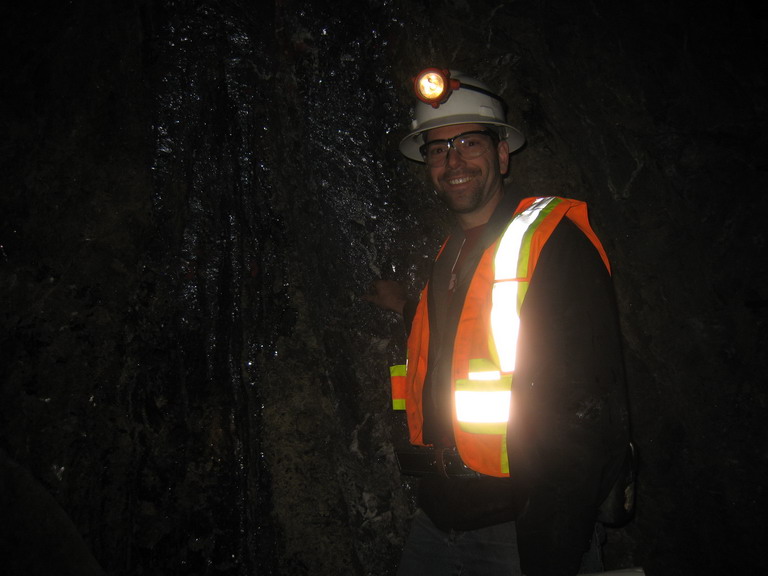 A truck hauling ore out of the mine as we head back up to the surface: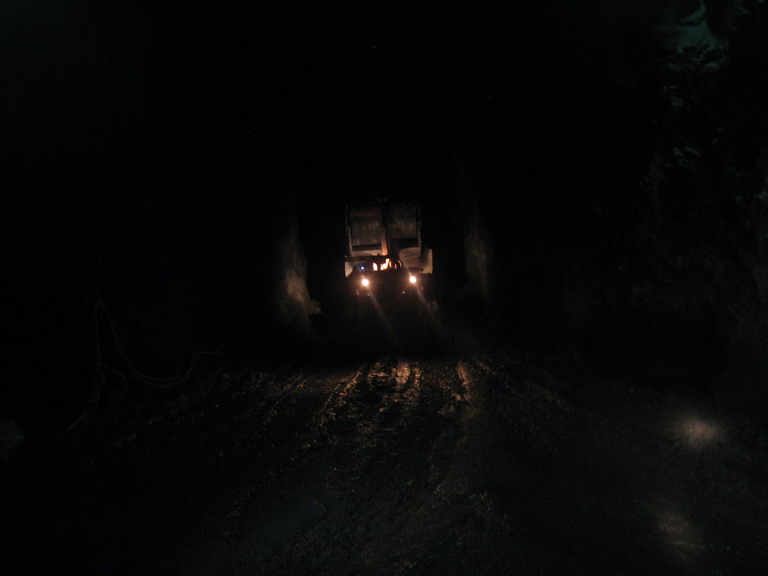 The nearest town to the district is Keno City, with a population of something around 25 people. It's almost impossible for me to imagine living in a place that remote -- and that frigid in the winter. Hardy people to say the least.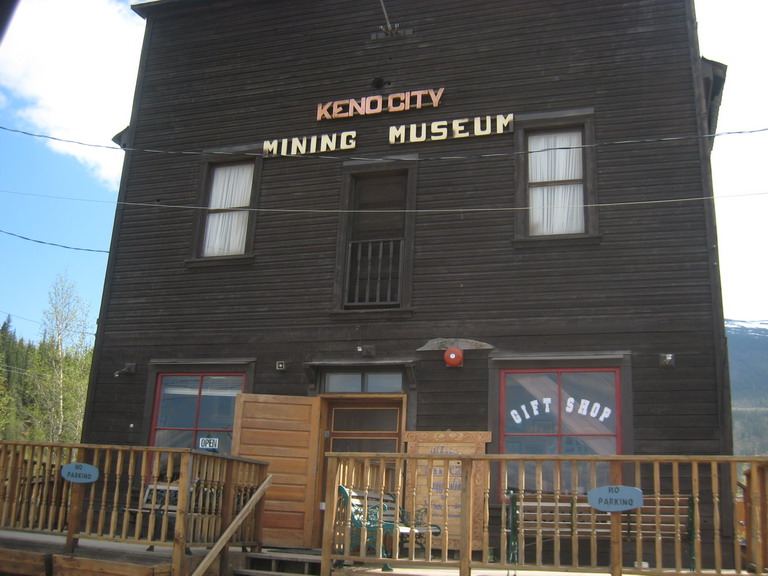 A map in the mining museum of old silver claims in the area: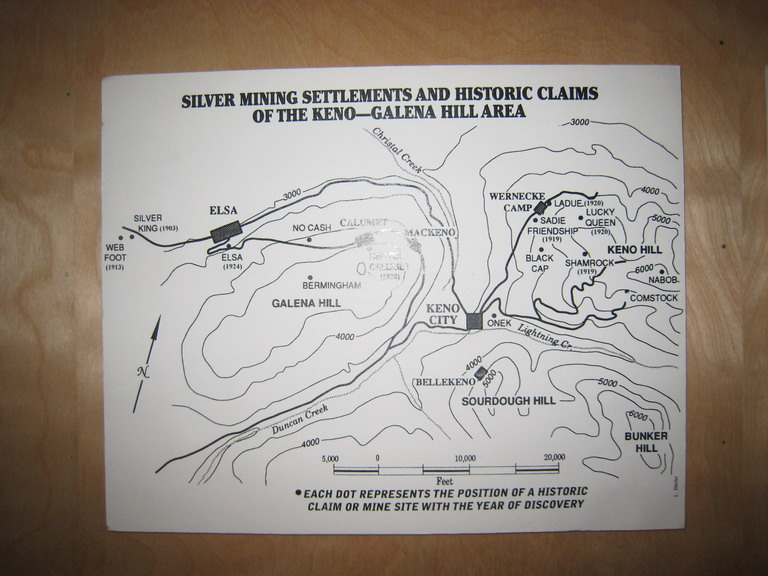 A major intersection in Keno City, Yukon Territory, Canada: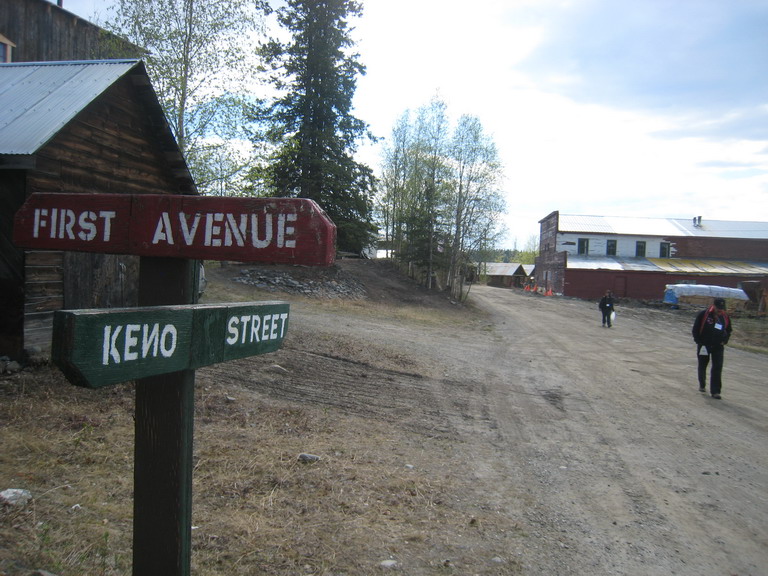 The guy who owned this place -- he passed away recently -- made the exterior walls of his house out of beer bottles.  I suppose there isn't much to do besides drink beer in Keno City, allowing a town of so few people to create a resource of so many empties.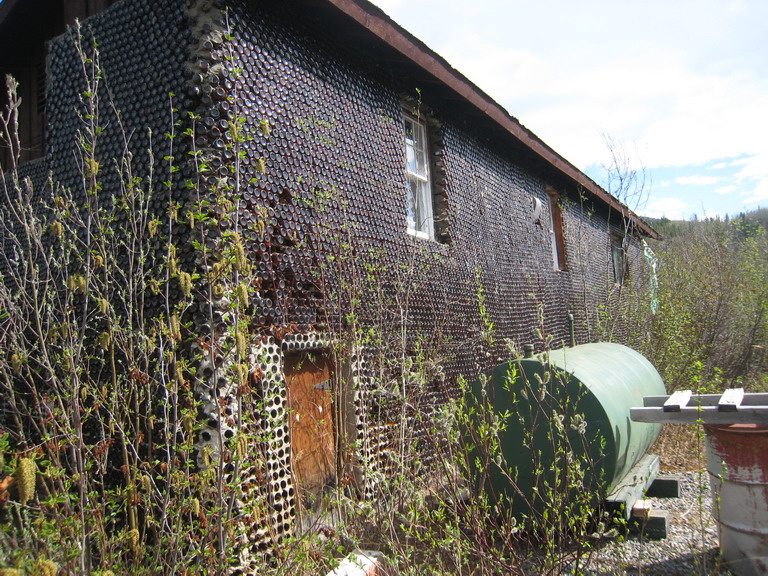 The library...was it once a chapel???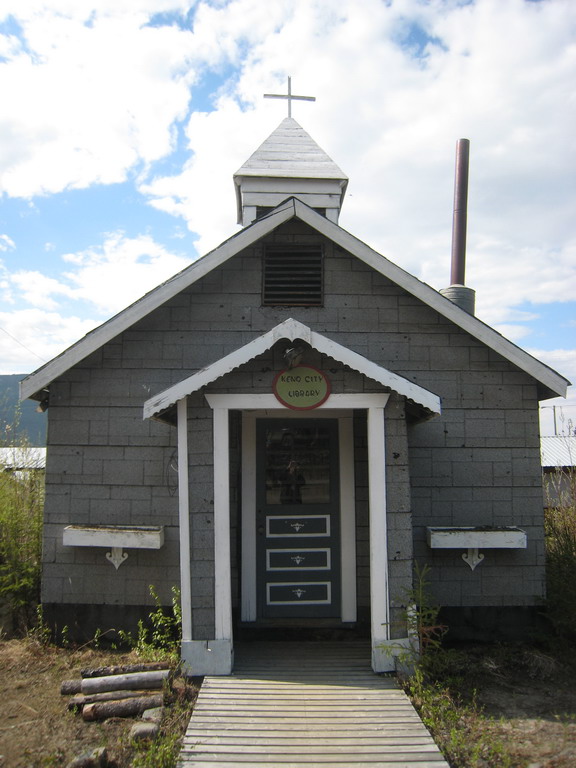 Ross with Alexco CEO Clynt Nauman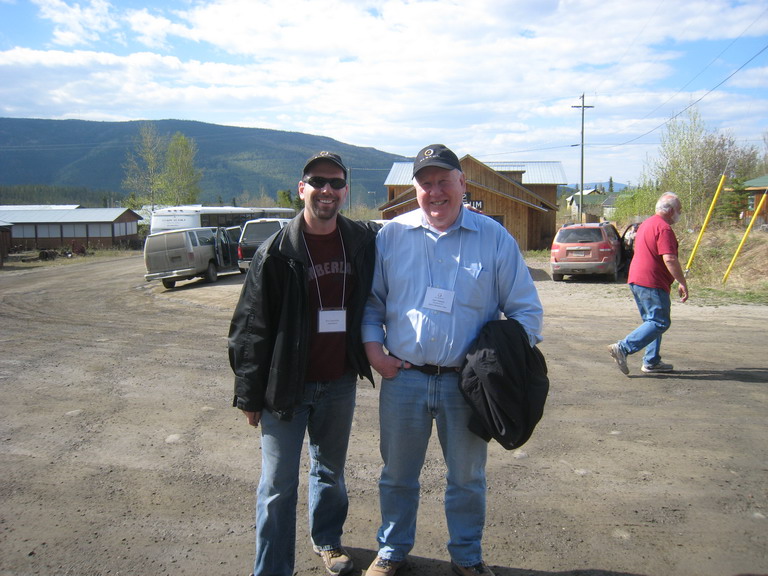 A rather remote road sign on the way back from Keno Hill to the Mayo airport: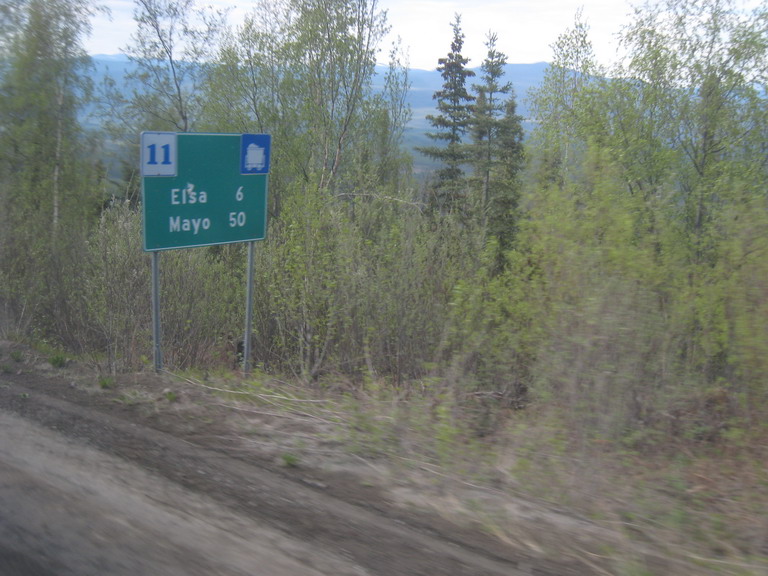 All in all, it was an educational, fascinating, and rather exhausting trip, as we did this whole thing, starting and ending in Vancouver, in one day.  We arrived at Vancouver airport (almost half an hour from our hotel) a bit after 6 AM and got back to our hotel near midnight.
We had a fairly long wait at Whitehorse on the way back so we went to the Airport Chalet for a drink and dinner. I ordered a double cheeseburger. I tried to get it medium but the waitress said "they have to be well-done in Canada." She didn't sound like she was joking, and I like the idea so much of a rule that silly that I'm not going to research it in case she was joking.  They make some pretty good beer in the Yukon, a territory which has only about 34,000 residents in over 180,000 square miles of territory, or 1 person per about 6 square miles.   Of the 34,000, about 20,000 live in and right around Whitehorse, so imagine the population density in the rest of the territory! Dawson City, the second biggest town in the Yukon, has a population of about 1,300.