Apply to Leadership Program of the Rockies
One of the most valuable experiences of my life was going through the Leadership Program of the Rockies (about eight years ago.) It's not just what you learn that's so important, but also who you meet. Some of my closest friends and political allies in Colorado are fellow LPR classmates and graduates. LPR grads hold more than two dozen elected offices around the state, but the program isn't only for people who want to run for office.
If you live in Colorado and have an interest in being a leader in promoting the values of liberty and capitalism, I urge you to consider applying. Or you know someone who fits that description, I urge you to encourage him or her to apply. The deadline to apply to the next LPR class is August 31, 2011.
For a one-page description of "What is LPR", click HERE.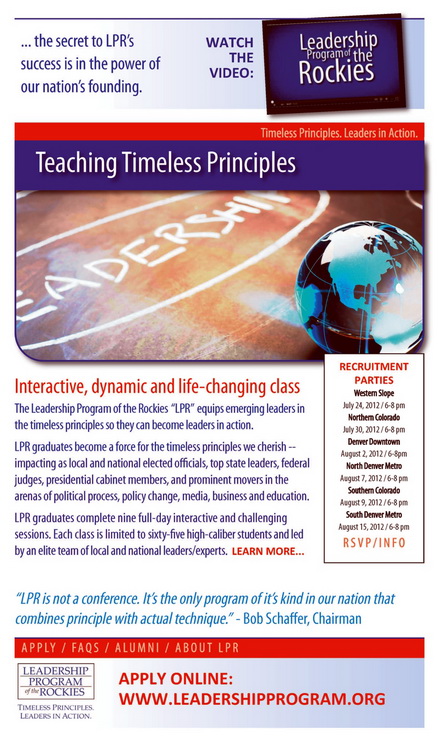 (For a PDF of the above image, click HERE.)
If you go to http://leadershipprogram.org, you can find all the information you need about the program and how to apply.
For what it's worth, I have made a (for me) substantial donation to LPR every year since graduating. I don't think of it as charity as much as an investment in the future of our state and nation.