Cap-and-trade to alter climate by at most a fraction of a degree
Chip Knappenberger, a climatologist in Virginia's state climatology office has written an interesting blog piece in which he uses a basic climate model to estimate the climate effects of the currently-proposed Waxman-Markey "cap-and-trade" bill. While the model is certainly flawed, as are all such models, it's not unreasonable to use it as a tool for comparing climate expectations both in the presence and in the absence of the cap-and-trade bill. See "
Climate Impacts of Waxman-Markey (the IPCC-based arithmetic of no gain)
", Chip Knappenberger, 5/6/09 Knappenberger's conclusion is that you never hear "cap and trade" supporters touting the climate benefits of their bill because there are none worth mentioning: "The bottom line is that a reduction of U.S. greenhouse gas emissions of greater than 80%, as envisioned in the Waxman-Markey climate bill will only produce a global temperature "savings" during the next 50 years of about 0.05ºC."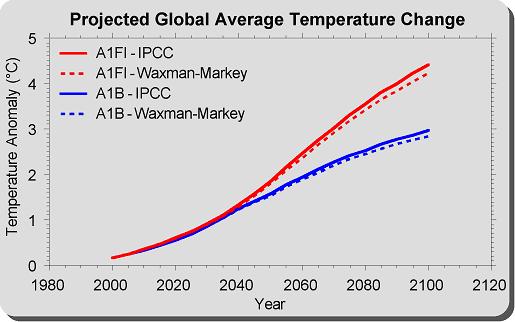 While reading the article, remember that as bill's supporters throw around a $700 billion price tag (effectively higher costs/taxes on Americans who buy anything, drive a car, heat a home, etc), Budget Director Peter Orszag has repeatedly that "cap and trade" will
substantially increase energy costs
(including, of course, electricity)... [video:youtube:Ms-M--v2_5I] and that the deputy director of the National Economic Council has said that the $646 billion estimate is far too low -- the real number will be double or triple that amount:
http://foxforum.blogs.foxnews.com/2009/03/17/kerpen_cap_and_trade_triple_cost/