Continuing the "climate change" debate with Yoram Bauman
Nearly two years ago, I had a fun online debate with "Standup Economist" Yoram Bauman about the science and economics of what was then called "global warming" and now (due to the absence of warming) called "climate change."  Dr. Bauman and I have decided to reprise the debate in light of whatever we've learned in recent years.  The Taylor brothers, Jerry and James, also participated in our conversation and I hope they will contribute to round two.
First below is Dr. Bauman's first salvo in round two, as copied from his blog at http://www.standupeconomist.com
Rather than writing one long note in response and posting it after Bauman's note, I will intersperse my comments within his note below, my comments in maroon bold text.
About two years ago I had a back-and-forth on climate change with libertarian blogger Rossputin, the Cato Institute's Jerry Taylor, and the Heartland Institute's James Taylor. Rossputin recently emailed me to ask: "After ClimateGate, GlacierGate, etc…. do you give even a little credence yet to my view that [anthropogenic climate change is] essentially a hoax?" So here's an update.
In my original post I accused libertarians of promoting the "Three No's":
No recognition that climate change is a theoretical possibility. I am happy to say that we've made progress on this: Rossputin and the Taylor boys all acknowledge that it is at least possible that something like carbon emissions could be a problem. This is terrific.

First, let's make clear that when Dr. Bauman says "climate change", he means "climate change caused by humans", also called Anthropogenic Global Warming ("AGW").  With that said, I acknowledge that AGW is a theoretical possibility in the same way that it is a theoretical possibility that the sum of all beach-goers who pee in the ocean might raise sea levels.  I do not believe, within the constraints of reality and reasonable possiblity, that CO2 emissions could be a problem.  First, atmospheric CO2 concentrations come AFTER, not before, planetary warming.  Second, even to the extent that CO2 could produce theoretical warming, it is a logarithmic effect, meaning that each further addition of CO2 to the atmosphere creates less warming than the prior addition of (the same amount of) CO2.

No peace with the IPCC. With the possible exception of Cato's Jerry Taylor, we have made no progress here. Two years ago libertarian folks were writing about the "impending collapse of the global warming paradigm", and today the "impending collapse of the global warming paradigm" is —guess what?—still impending. Libertarians used to mock environmentalists for making claims of impending collapse (that we're running out of food, oil, minerals, etc.) that didn't pan out; Julian Simon was a master of this, and I admire him for it. But now you're making the same mistake yourselves, and you deserve to be mocked for it, starting with Julian Simon, who wrote "My guess is that global warming is likely to be simply another transient concern, barely worthy of consideration ten years from now." He wrote that in 1994. Give it up already! You already agree that climate change is a theoretical possibility (see point #1 above), so it's not that hard to go from there to accepting the scientific evidence. Speaking of the scientific evidence…

Yoram, have you not been paying attention?  The collapse of the global warming paradigm is no longer "impending". It's happening daily. Which of these major news stories have you missed? And if you've missed all of them then maybe you should do some homework before writing such obviously erroneous statements.



New questions about IPCC claims regarding hurricanes and cyclones

The Phil Jones interview in which one of the leading culprits of the AGW hoax makes important admissions about warming...and about himself.
The news that three of the founding members of the U.S. Climate Action Partnership (Conoco, BP, and Caterpillar) are dropping out of the group.
The 31,000 scientists (including over 9,000 PhDs) who have signed a petition saying that AGW is wrong.



I could keep going but it's not necessary.  The number of scandals related to AGW and the UN is crushing the alarmist movement day by day.  (This PAGE has a good summary of the above and other scandals.)  Julian Simon was just a few years early, but he's being proven absolutely right...again.  How many news reports and opinion pieces calling AGW a "scam" or "mass panic" or "hoax" do you need to see to admit at least that there are huge cracks in the foundation of the alarmist movement?


No negotiation about climate change science, i.e., no serious scientific engagement. Here I am sorry to say that we've made negative progress. My fear—see my questions below—is that ClimateGate and GlacierGate &etc have eliminated the possibility of reaching agreement simply because we can no longer agree on a data set that will tell us, e.g., about global temperatures. I see ClimateGate mostly as an administrative issue—people who ask others to delete emails to avoid FOIA requests should not be in positions of authority—but I cannot stop others from interpreting it as evidence of "a conspiracy to limit population not only in this country but across the globe."
See above...your desire to rely on "science" which is proven to be more bogus with each passing week hardly makes your claim of "scientific engagement" credible.
Another item which I could have mentioned above is the simmering scandal about the steady reduction in the number of weather stations which are used to quantify global temperature changes.  From the 1970s to now, the number of stations has dropped from about 6,000 to below 1,500 with most of the stations being removed in rural locations and higher latitudes.  The choices of which sensors to keep and which to remove have resulted in a systematic measurement bias toward implying warming.
Furthermore, the quality of stations remaining is horrible.  Here's an image from SurfaceStations.org.  Note that the orange part of the graph, representing 61% of weather stations, have systematic errors of over 2 degrees centigrade. Another 8% have errors of over 5 degrees!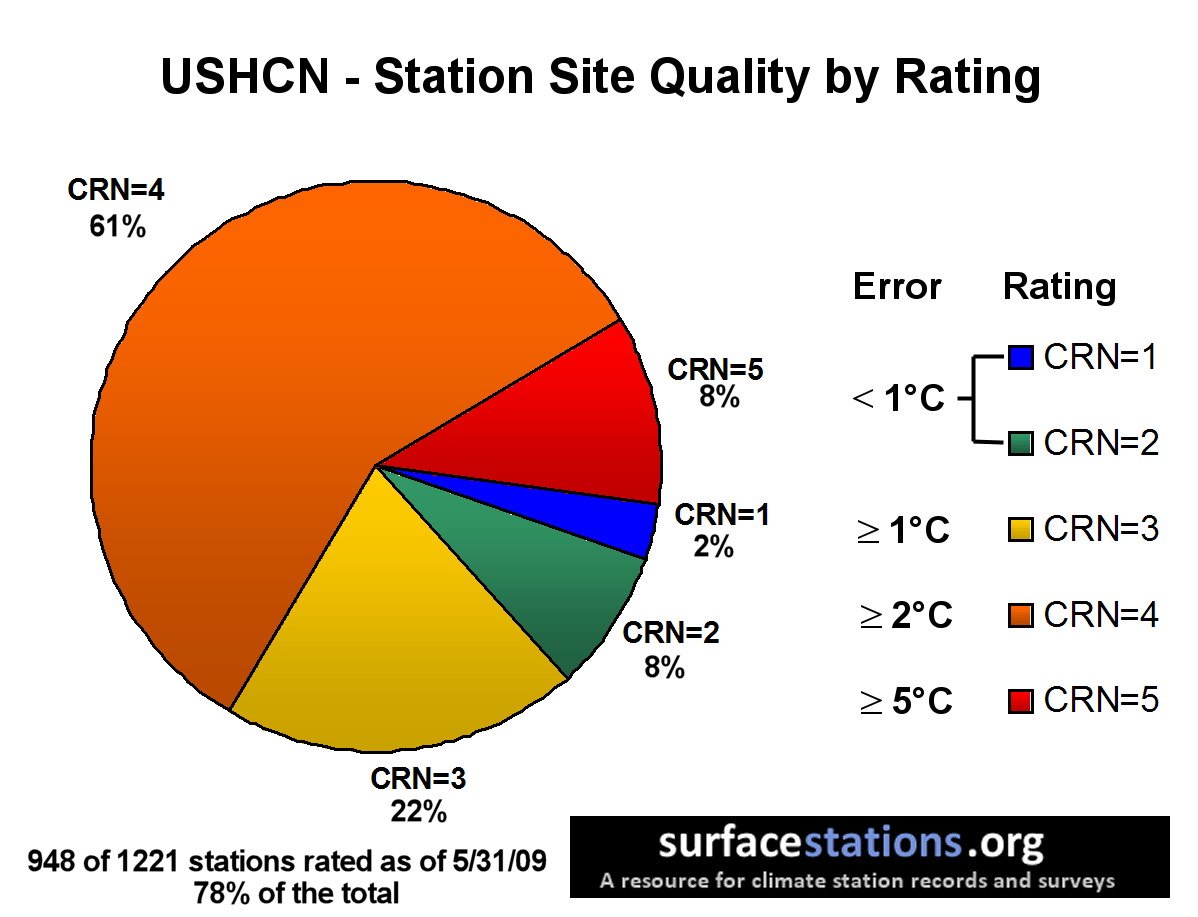 So here are my questions, and I'm going to limit myself to one for each of my libertarian friends (but of course you're free to opine on whatever you want):
For Jerry Taylor of the Cato Institute: To what extent (if at all) have you changed your views since you wrote the following during our last go-round two years ago?


"I actually agree with almost all of [Yoram's original post]… While I don't pretend to speak for libertarians in general, I think an honest examination of the libertarian community would find that the beliefs Mr. Bauman is attacking are not as widely spread as he thinks. For instance, Prof. Pat Michaels – a senior fellow here at Cato who holds a PhD in climatology and who is widely published in the scientific literature on this matter – agrees that anthropogenic emissions are the main driver behind the warming trend of the past several decades. Moreover, he thinks the IPCC reports are fairly reasonable (albeit not perfect) summaries of the scientific literature (which maybe shouldn't surprise – he is a member of the IPCC). He believes, however, that future warming will be at the lower end of the IPCC forecasts and that the economic costs will prove modest given the distribution of that warming."

For Rossputin: Is there a data set that we can agree on? Presumably not the Hadley Centre one (although my understanding is that you skeptics were for it before you were against it), but how about NASA (from their graphs page), or NOAA (from their annual State of the Climate report), or… you tell me! The hallmark of science is refutable implications, but we can't get there unless we can agree on a data set to refute predictions. I'm on board with the IPCC, which predicts global average temperature increases of 0.2 C (0.36 F) for the next few decades. My untrained eye says that they're doing pretty good so far, so well in fact that IMHO they've earned the benefit of the doubt; but if global temperatures rise by less (or more!) than they predicted then I'm going to reconsider. My question for you is whether you believe any of these graphs. If you do then let me know which one and what it tells you and what kind of changes will convince you that you're wrong about global warming being a "hoax". And if you don't believe any of these graphs then then all I can do is encourage you to put a thermometer outside your house and start taking temperature readings :)
There is probably an atmospheric data set we could agree on, and probably not a land-based data set for the reasons described above.  Not to mention the fact that alarmist scientists who were in charge of some of the oldest land-based data now say they've lost it...  The fact that you are so resolutely "on board" with the IPCC when the evidence is so strong that their "science" is utter junk threatens to make you look like a cult member rather than an economist or someone interested in searching for truth.  I don't believe anything from Hadley, NOAA, NASA, or the UN on this issue at this time.

You also make an important error of logic by assuming that if there is warming (which I doubt) that means that humans are making an important contribution to it (which I doubt even more.)  It is not the fact that climates change over time which is a hoax.  It is the claim that we are in a man-made inexorable warming trend.
Also, as far as the science goes, do you know that 95% of the "greenhouse effect" comes from water vapor, 99.999% of which is naturally-occurring?  And, quoting myself in a prior blog note, Carbon Dioxide, which represents less than 0.04% of the atmosphere accounts for less than 4% of the greenhouse effect.  Furthermore, only about 3% of all CO2 is man-made. In fact, combining all greenhouse gases, humans are only responsible for less than half of one percent of the entire greenhouse gas effect!
For James Taylor of the Heartland Institute: What changes would you make to this draft PPT of an "introduction to climate science" lecture that I'll be presenting to my ENVIR 100 students at UW next fall? I'll take your suggestions seriously, and FYI here's a smaller PDF version.
PS. Am I still invited for Thanksgiving dinner at the Taylor family compound? I might be on comedy/book tour this fall (promoting my fabulous cartoon economics book; see here for an excerpt on carbon pricing) and Thanksgiving would be fun (especially if your compound is in Hawaii, which is where my girlfriend wants to spend Tgiving this year :).
PPS. Let me repeat something I said 2 years ago:
Listen up, my libertarian friends. You have a lot to contribute to the climate change discussion, in particular by emphasizing the superiority of markets and market mechanisms over the inefficient and often ineffective command-and-control policies that are beloved by lefties. But first you need to take a seat at the table instead of taking pot-shots at something that economists know is theoretically possible and that the scientific consensus says is "very likely".

There is no such "scientific consensus".  There is an echo chamber of a relatively small number of scientists who have self-serving motives (i.e. getting government and foundation grants) for saying that the end is nigh.  I don't need to "take a seat" at a table of liars and cheats in order to make a legitimate argument against them.
We still need you at the table. Check out this this op-ed calling for a revenue-neutral carbon tax co-authored by Todd Myers of the free-market Washington Policy Center here in Seattle; I'd bet that you think it's a good idea just on the grounds of national security! Imagine how much more likely this kind of revenue-neutral tax reform would be if you put your weight behind it.

If you believe that a "carbon tax" will be revenue-neutral, I have a bridge to sell you.  And why would you go out of your way to build an entire tax and regulation system to discourage the production of what is in the end simply plant food?  A carbon tax is the government's way to try to control absolutely every physical product in the nation.  It's an idiotic idea, a horrible solution in search of a non-existent problem.
Finally, as an economist it's remarkable how you have never suggested a cost/benefit analysis of these sorts of proposals.  Even supporters of "cap and trade" (as passed in the House) say that it could only lower temperatures by less than a quarter of a degree in a century...less than an annual random variation.  Take a look at the correlation between carbon emissions and GDP, life expectancy, etc.  Carbon emissions can only be substantially cut by destroying economic output.  And the carbon tax is a cynical way to control the economy and redistribute income.  (Here's a good video on the topic: http://www.cato.org/mediahighlights/index.php?highlight_id=288)
Instead we have a GOP "purity test" ("We support market-based energy reforms by opposing cap-and-trade legislation") that demonstrates a complete failure to understand that the way market-based instruments reduce pollution is by making pollution expensive. I half-expect lefties to live in a la-la-land where we get to taste the honey without the sting of the bee (check out this video that manages to talk about cap-and-trade for 6 minutes without mentioning that the price of fossil fuels will go up) , but the right wing is supposed to understand how markets work and right now it's lost.
Let's get this straight, Yoram: Carbon dioxide is NOT pollution.  And, I repeat, even if you believe that CO2 could theoretically cause warming, humans don't produce enough of it to justify any of these coercive government-based plans or subsidies to "deal with it."
The science does not support your view, and the economics supports it even less.  It's strange for a PhD economist to be so intentionally isolated from facts and basic lines of inquiry.  It's a free country and you are welcome to participate in any religion, including the cult of global warming, but don't expect to be able to get me to drink the Kool-Aid when all it will get us is a lower standard of living for ourselves and our children, and a level of government power and control based on utter junk science which will make us long for days of rationality and liberty.